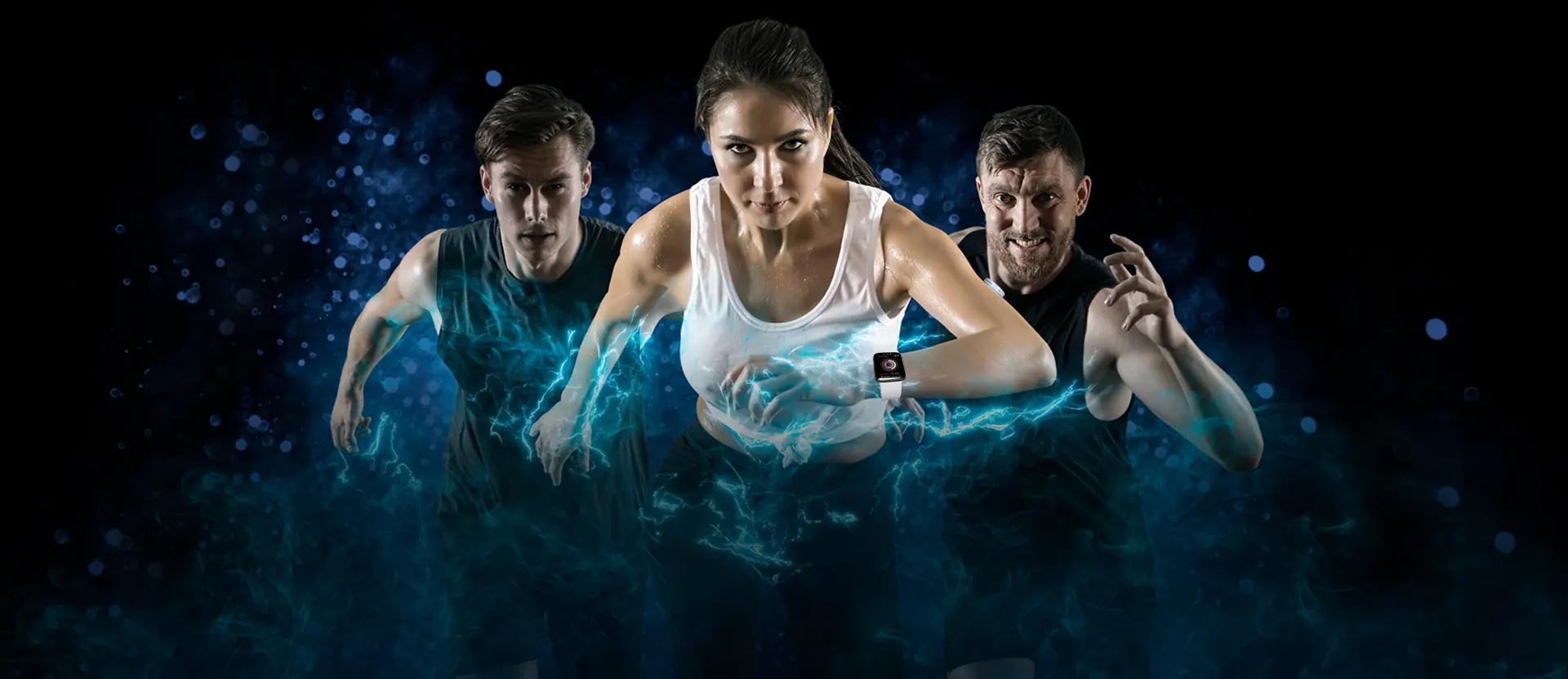 "For the best"
Don't fret, level up your health & fitness with the Champions App.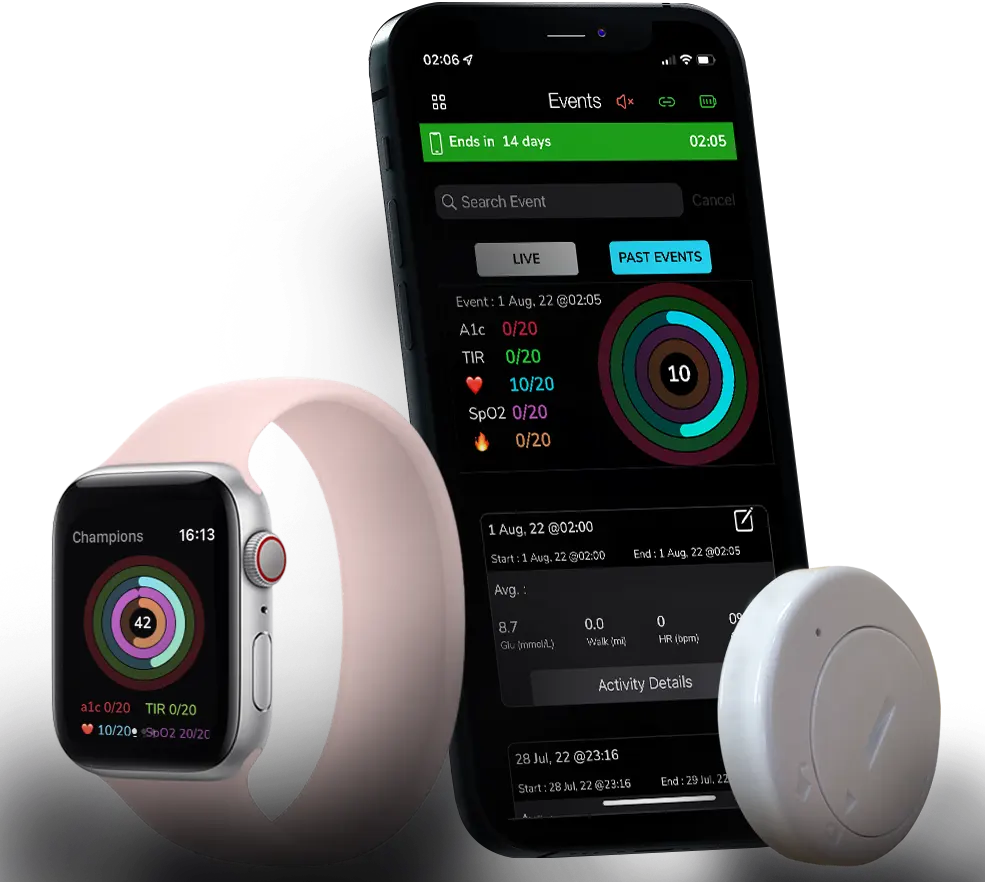 About the Champions
Champions is the only app which provides a 360 degree view of health on "SmartWatch". Including A1c, Time-in-Range, food insights, activities, oxygen levels, heart beat monitoring. Users just need a SmartWatch to monitor their activities while training without use of the phone.
Phones are outdated,
Champions just need a SmartWatch
SmartWatch is all you need to improve your fitness performance. No need to buy any 3rd party wearables if you already have a SmartWatch and Ambrosia System for "Champions"

You can switch the mode between the phone and SmartWatch through Champions App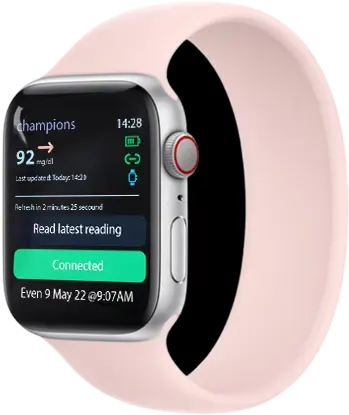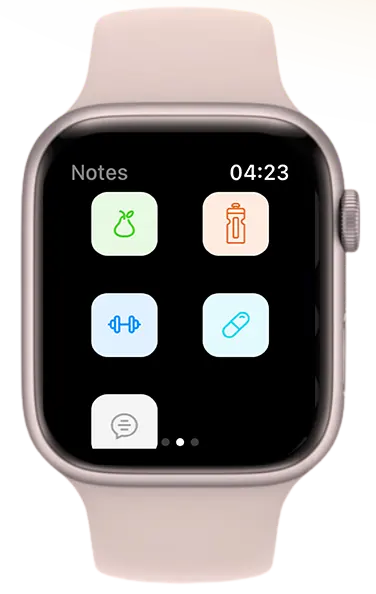 SmartWatch
Switch the BluCon connection from phone to SmartWatch from Settings Option of Champion App and SmartWatch will record all the important information like glucose readings every 5 minutes, Time-in-Range, A1c, activity, O2 and heart beat.
You can input food, drink and some other information from easy to use Watch interface.
Champions is "Watch First" app which means you can input as well as see most of the details without the need of a phone.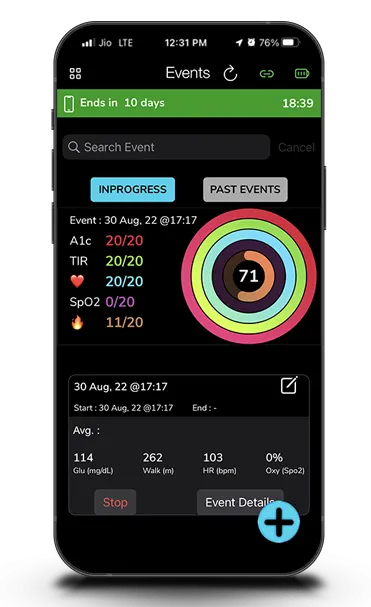 Improve Performance
Create an event on SmartWatch or phone. Every event will have a score. This score will be calculated based on A1c, Time-In-Range, Heart rate , Oxygen saturation and duration of the exercise in the particular event. An event could not be longer than 24 hours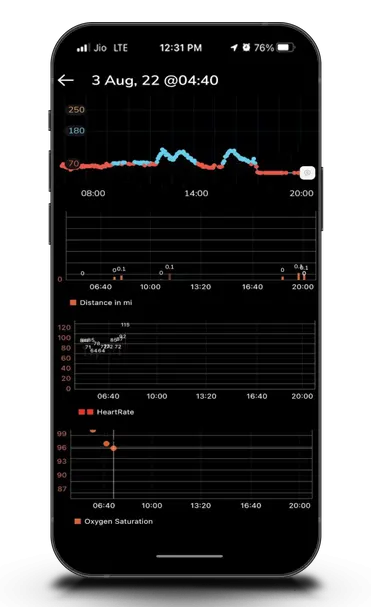 Live Data
App will display your glucose, activity, heart rate and oxygen on phone. You can see averages of them as per event on home screen. You can see all live data from your body at one place to help you know more about your body and guide you to manage your energy levels.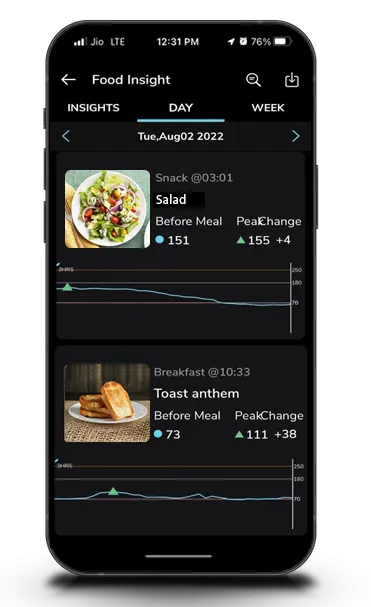 Food Insights
Food insights is one of the most powerful features which helps in figuring out which food is affecting your glucose levels and how much and you can know about your food habits. User can add the food image and it's ingredients, he can see how glucose is changing after eating the food for next 3 hours. Slowly, he will know about the food ingredients which is causing spike in glucose and steady glucose.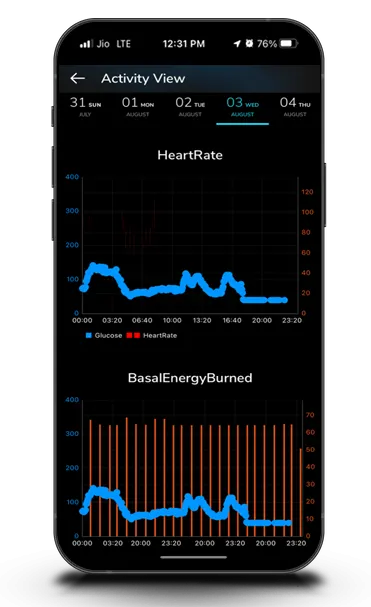 Activity View
Activity is also a useful feature , where user can see all activities graph and each graph will also have glucose information. This will show you interesting facts about users sleep and glucose, energy burnt and glucose , walking and glucose and so on.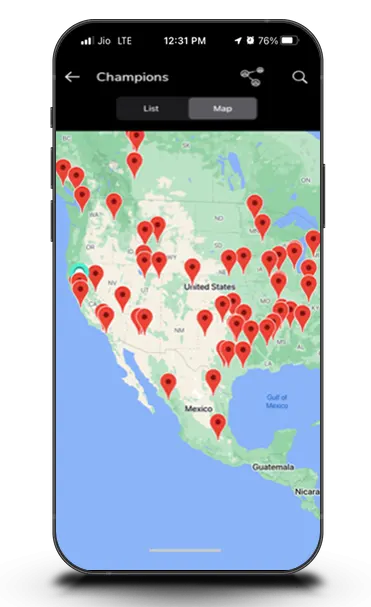 Meet Co-Champions
Champions feature is where you can meet co-champions. You can share or get the required information with or from them. You can see all the champions in the list. You can see them on the map where they were located.
Abbott Freestyle Libre Sensor
Our Champions app supports all types of Libre sensors, including Libre 2, Libre US 14 day, Libre Pro and Libre sensors used in any part of the world. You can activate the FreeStyle Libre or Libre Pro sensors with the Champions app and the NightRiderBluCon. 60 minutes after a sensor is activated you can start getting glucose readings updates in the Champions app

The FreeStyle Libre sensor is applied on the back of the upper arm. The sensor is water resistant.

Filament is < 0.4 mm thick and inserted 5 mm beneath the skin surface to measure glucose levels.

Automatically records glucose level every 15 minutes to provide more insightful patterns.

No patient interaction with the sensor is required — designed to integrate with patients' daily lives.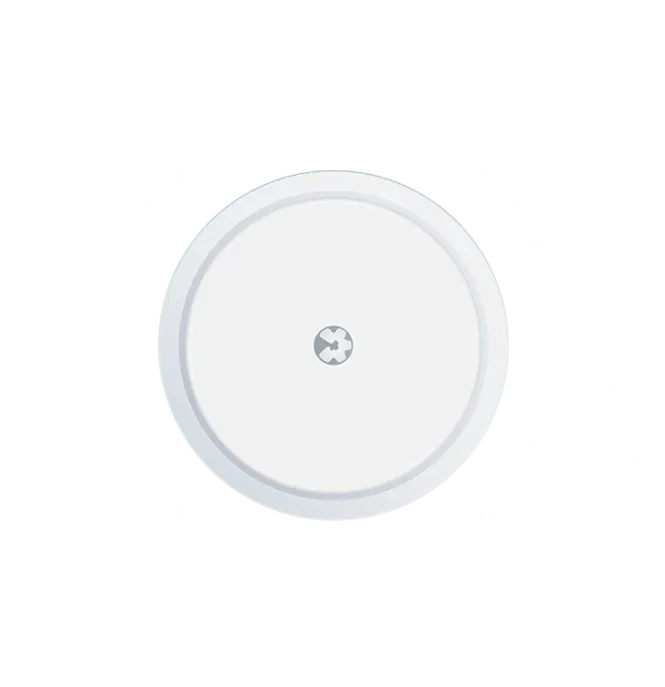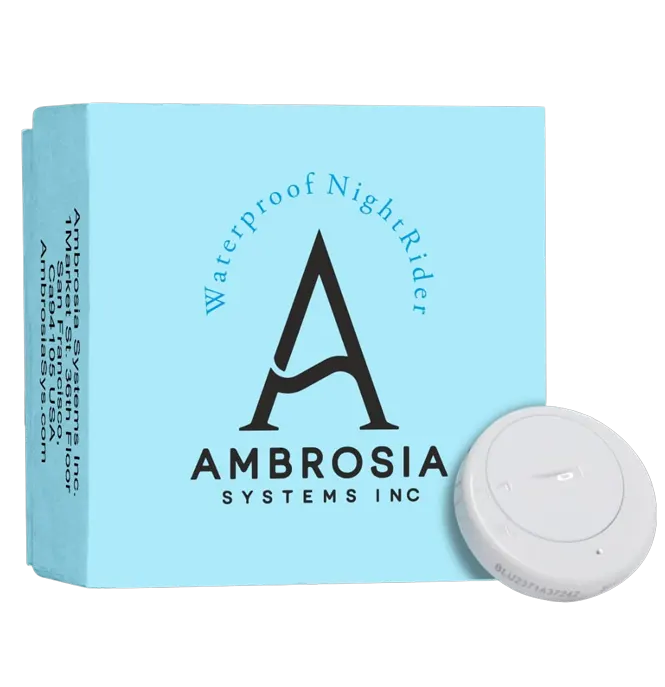 NightRider BluCon
The flagship product of Ambrosia, NightRider BluCon, is a NFC (Near Field Communication) to BLE (Bluetooth Low Energy) electronic transmitter. When attached to passive NFC tags like FreeStyle Libre (FSL) and FreeStyle Libre Pro sensor, NightRider BluCon transmits glucose readings to a mobile app enabling Continuous Glucose Monitoring (CGM) on the go.
Fits on top of FSL sensor.
Sends reading to mobile/wearable app every 5 minutes.
Download the Champions app from Apple app store / Google play store
Sign up with your email id. Fill all the required fields with correct information, and login to the App.
Scan for Bluetooth, accept the Bluetooth permission to access the bluetooth
device.
Now turn on the NightRider BluCon by pressing the switch located in the hole with small pin. A Red Light will flash. Then Champions connect with the BluCon.
Now App will ask you for passcode, enter 6 digit passcode which is printed on the side of the BluCon after 13 character serial number.
Once BluCon connected then apply it on top of the sensor with the help of the armband or tegaderm or double sided tape.
Now you will get readings for every 5 minutes.
Champions app can activate both Libre Pro and Libre sensors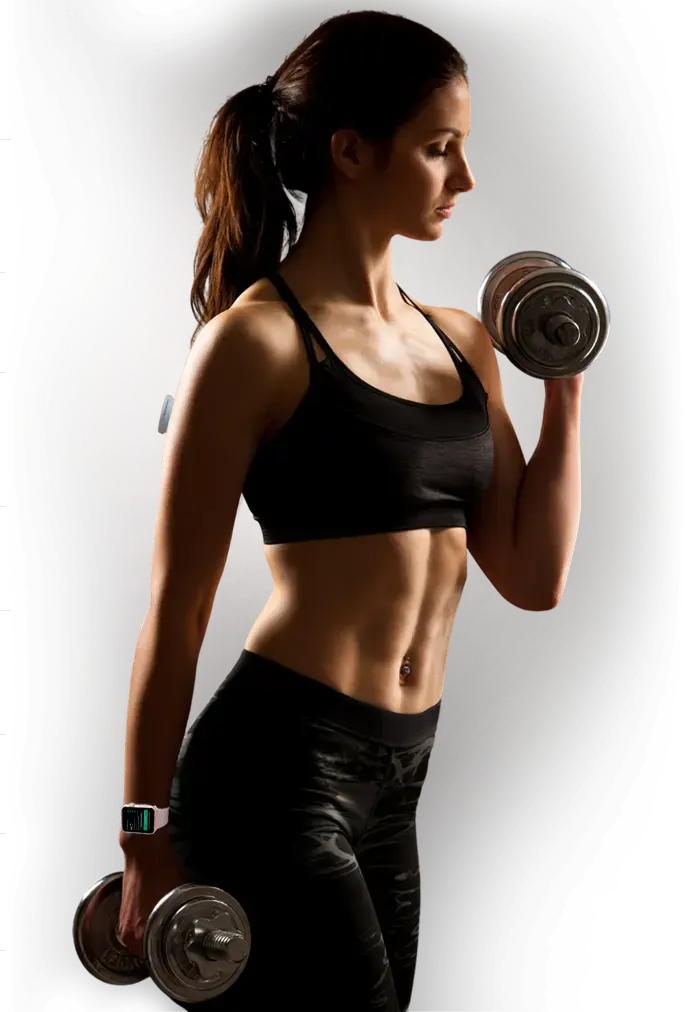 Frequently Asked Questions
Is there an Apple watch app that can display the readings without phone? Can I get alerts on my watch as well?
Yes, you can use Champions app to see readings on the Apple watch series 3 and above to get readings without phone. After initial setup on the phone, you can switch the mode from phone to watch to directly connect the NightRider to apple watch and use it without the phone. If your watch has internet connectivity then you can also share with others.
Where do we get battery caps for NightRider BluCon?
Kindly write an email to contact@fitness.ambrosiasys.com for better assistance.
Can Nightrider Waterproof be used in salt water?
We do not recommend to use it in saltwater.
What is the use of adhesive provided within the box?
The clear sticker gives extra protection to device and you can stay in water for more hours in any depth. Please cover the top part completely, which will save the battery compartment.
What is the use of Logs in App Settings?
This Log will helps to store the readings maximum for 7 days. In future if you face any trouble in reading and so, then you can mail us your log sheet for reference.
Battery cover is hard to open. Is there any way?
Kindly refer this video, https://www.youtube.com/watch?v=G-8YteGJWa0